Reflections on Mary's Song (Luke 1:46–55)
Our Christian faith is a faith that sings.
The people of God have always sung about our God and his goodness to us. We live in a cultural context—and sometimes even a church context—where we are forgetting how to sing.
On a very practical level, singing isn't something many people get together to do anymore. Maybe, maybe around Christmas. Even in the church I notice some people choosing not to sing and let the worship leader do it for them. Of course, I think this is a sad mistake.
When we sing, something changes in our minds and hearts. And something changes even further when we sing words that are married to the truth of who God is and who we are. Grace can take root in those moments in special ways.
Mary, as she always does when we take her on her own terms, helps us to worship God by pointing us to Jesus. Through her song, the Magnificat, she helps us to understand true worship. Many worship songs have come and gone over the centuries, hers has stood fast—what is it about the Mary's song that makes it the kind of worship song that will last into eternity?
There's a lot, but let me draw out just three things for our time together today.
First, it's a song that places God at the center. This is how it begins: "My soul magnifies the Lord." My soul makes God bigger to me and to those around me. Notice this is God-centered, but it doesn't neglect the impact on the individual.
But also notice—and here's the second thing—that the emphasis, when it comes to the individual, is on humility. "He has looked on the humble estate of his servant." There is an honest acknowledgment from Mary that she is poor and oppressed. She and her people need God to act, not just in quote "spiritual" ways, but in ways that affect the concrete reality of their existence, in ways that prove that God keeps his promises, even when we human beings do not. This is why his mercy is needed.
This is the third observation: The joy comes as Mary recognizes that the mercy of God has always been for those that fear him, that is, those who understand that God's purifying love is what must direct their lives in order for them to flourish. And the ultimate expression of God's purifying love, the kind of love that lifts up the lowly but puts the proud in their place, is being born in Mary's body.
Jesus, though he never sinned, bears the ultimate consequence of humanity's selfish and self-destructive attitudes, actions, affections in his body as he dies on a cross. Yet, in his mercy he forgives every sin, even the sin of killing God, and so death begins to come undone and he is raised from death to Resurrection life in the power of the Holy Spirit. That's the life that he gives freely and without reservation to all that will take it. It's a life that makes a concrete difference for everyone who receives it—how could anyone stay the same after encountering and receiving in themselves the very life of God?
This is why Mary burst into song.
So, of course, the songs we sing matter. Are they God centered? Are they humble? Do they exalt God's concrete action in the world in Jesus Christ? These are important questions. But the questions go deeper: Am I in my whole life, singing a song that would resonate with Mary's? In other words, Am I God centered? Am I honest with myself about my concrete need for God? And am I trusting God to meet those needs for me in his Son, Jesus?
The Good News of the Magnificat is that God is God which means I don't have to be. You and I can acknowledge our need, and live a life that marked by joyful thanks for God's provision in Christ.
That's a song worth singing a thousand different ways—and worth teaching the world to sing too—with our lips, and our lives, and from our hearts.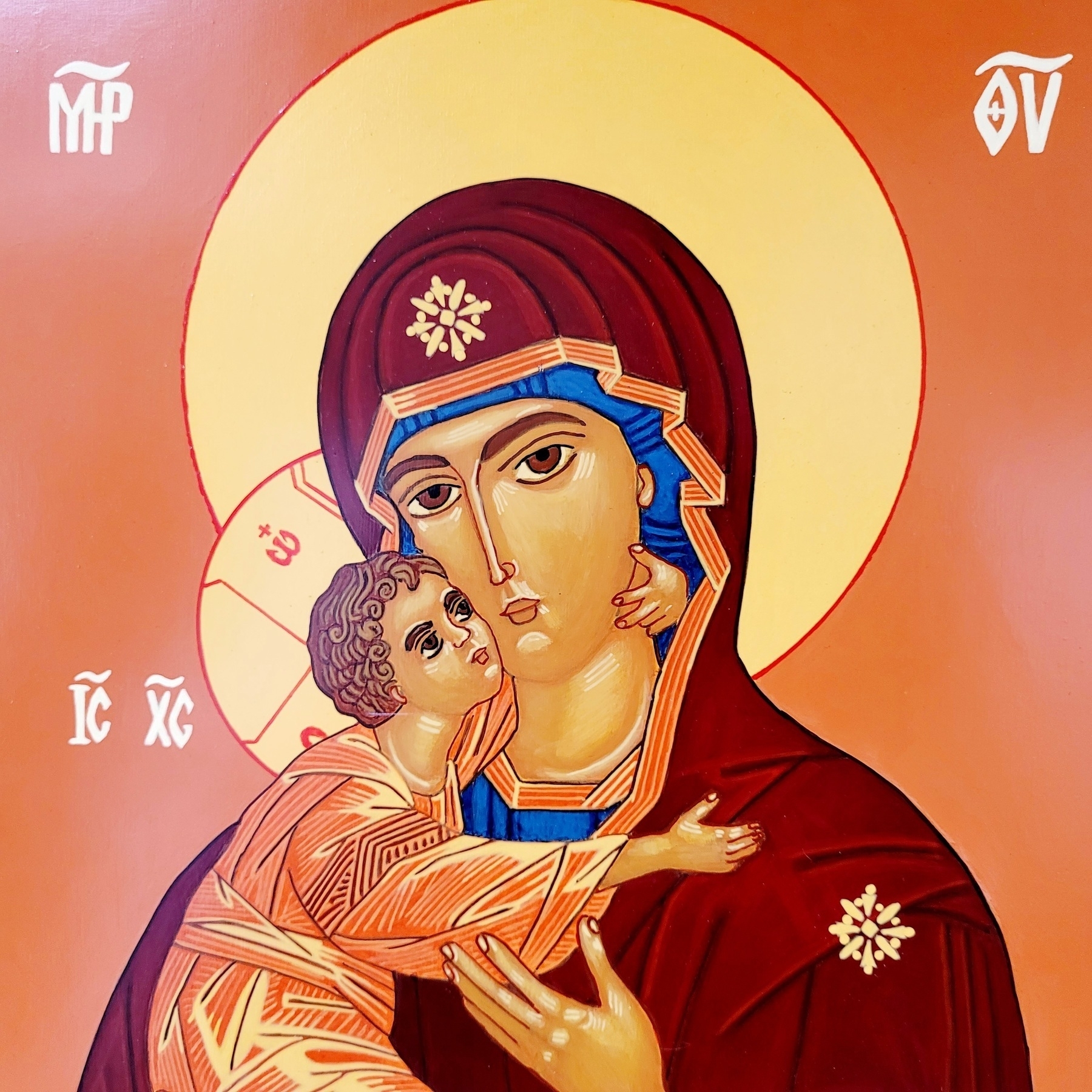 Photo: Icon written by Dennis Maloney