May her memory be eternal
Ann (I called her Nana as if she was one of my own grandparents) was one of the kindest, most caring, patient and loving people I have met. When I married her granddaughter Amber, she welcomed me into the family in the most beautiful way. I always felt at home and loved and accepted with her. We had many lovely conversations about Jesus. I will miss her.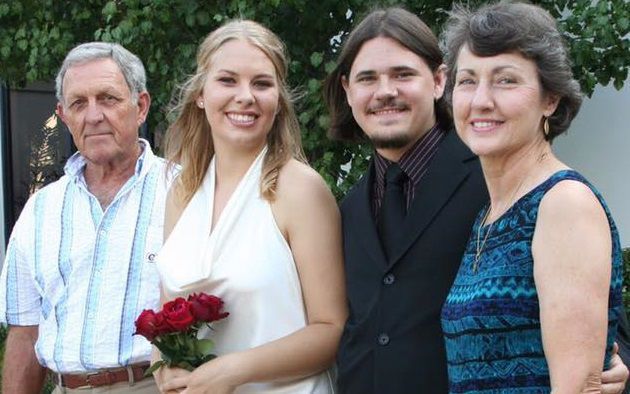 Here we are on our wedding day with Nana and Papa Joe.
Obituary for Patricia "Ann" Morris
Funeral services for Patricia "Ann" Morris, 77, of Edgewood, are scheduled for 11:00 AM, Monday, January 7, 2019, at First Baptist Church in Edgewood. Burial will be held at 2:30 PM, after services at Restland Memorial Park in Dallas. Services are under the direction of Hiett's LyBrand Funeral Home.
Patricia Ann Thompson was born June 17, 1941, in Dallas, TX, to Wesley Bert and Bessie Loraine Davis Thompson. She was raised in Dallas and graduated from Samuel High School. Ann married Roy D. "Joe" Morris on May 4, 1996, in Dallas and they made their home in the Edgewood community in 1999. She loved Jesus with all her heart, she was a wonderful homemaker, and was also employed as a receptionist for Perot Systems and Edgewood High School. Ann was a member of the First Baptist Church in Edgewood and also taught Sunday school classes and Awanas. She was a fabulous cook and loved spending time with her family and friends.
She is preceded in death by her parents, Wesley and Bessie Thompson
Ann is survived by her husband, Roy D. "Joe" Morris of Kaufman; daughter, Kristy Falk and husband Duane of Paris; son, Chuck Smith and wife DeeAnna of Dallas; daughter, Susan Dunham and husband Jeff of Edgewood; step-son, Russell Morris of Kaufman; sister, Geraldine Gardner and husband Gerry of Gainesville; six grandchildren and eight great grandchildren; one niece and one nephew.
Visitation will be held from 3:00-5:00 PM, Sunday, January 6, 2019, at Hiett's LyBrand Funeral Home in Wills Point.
Memorials may be made to: Lottie Moon Christmas Offering for the International Mission Board. www.imb.org/lottie-mo…